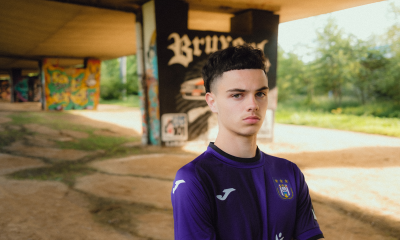 Tristan Degreef has signed a new contract with RSC Anderlecht. The 18-year-old from Leuven has committed himself to the club until June 2026.
'Tri' joined our U10 in 2014. From then on, he continued to impress his coaches at the RSCA Belfius Academy. He signed his first professional contract in July 2021.
For years, Tristan mainly played in central midfield. Today, he's playing more and more as a winger, where he can put his dribbling skills and scoring ability to good use.
This season, Tristan played both with the U18, who finished second in their league, as with with the RSCA Futures, with whom he played in eight games in the Challenger Pro League. With his audacity and his technical qualities, he left no one unmoved. Next season, Tristan will be part of the squad of the RSCA Futures.
CEO Sports Jesper Fredberg: "Tristan has such an interesting profile. He's got all the technical abilities and he's a smart player. He's coped well with his first steps in professional football this season, now it's up to him to take the next steps. He'll be a valuable asset for our RSCA Futures team next season."
Congratulations, Tristan.